Ariake Farm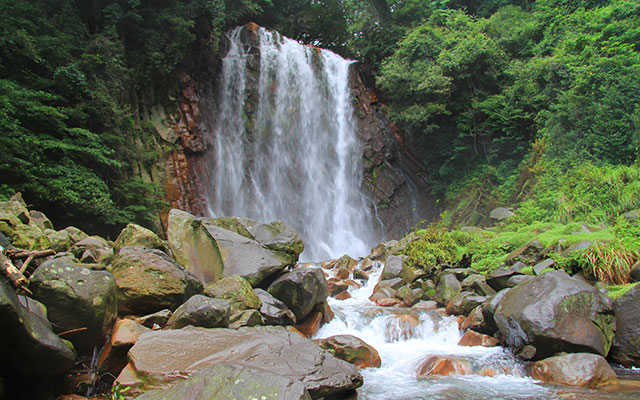 Eels are one of the made-in-Japan products that are the pride of Yamada Suisan. In Kagoshima Prefecture on nature-rich Kyushu Island, we now raise 1,000 tons of eels annually at five eel farms. As part of our eel-raising practices, we decided to take on the challenge of using absolutely no chemicals or antibiotics because we want to "deliver eels that are safe and high-quality" to consumers. After repeated trial and error, the solution that we initiated involved the question: "How can we create environments that do not make eels sick?" Toward this goal, "eel masters," who dedicate 24 hours a day to eel care, even sleep and eat next to the eels, in order to methodically observe how the eels feed, how they swim, and the smell of the pond, etc. They always pay attention to the eels' condition. Furthermore, the water that we use for the eels is clean, drinkable spring water from the Kirishima mountainous area, and modern facilities carefully regulate the water temperature and water quality. However, the final judgment is made based on the eel masters' sensitivity and passion. The eel masters sense how the eels are doing with their eyes, ears, and sense of smell and put their hearts and souls into raising good eels. Our eels are raised with no compromise on quality and are processed at the adjoining facilities, where they are carefully grilled to perfection on charcoal grill extending 80 meters in length to maximize the quality of the cooked eels. We deliver "a taste of which we are proud," born from our passion to pursue safety and high-quality, to the consumer.
Ishinomaki Farm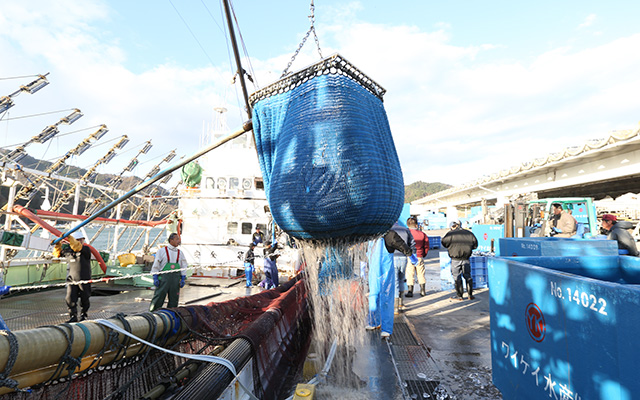 Ishinomaki City, Miyagi Prefecture, is a port for one of the world's three largest fishing grounds where large catches of fresh seafood are hauled in. Yamada Suisan's Ishinomaki Farm has created products that can be easily be eaten at home, made with popular fish such as fresh saury, mackerel, and sardine from the waters off the coast of the Sanriku region. We aspire to be a "kitchen that serves Japan" in place of home kitchens in order to hand down Japan's culture of fish to the next generation. We believe that this is the mission of Yamada Suisan. Moreover, we aim for further heights by expanding the availability of our made-in-Japan products not only in Japan but also overseas.
Tarumizu Farm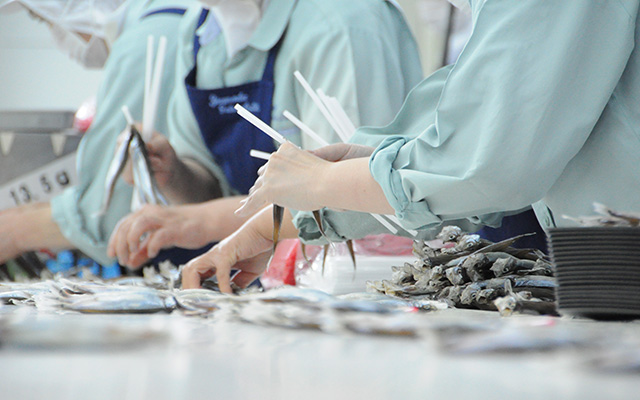 For 40 years, Yamada Suisan's Tarumizu Farm has produced capelin (smelt fish), and currently they boast a domestic market share of 20%. Because they are simple products, the raw ingredients are important. Highly experienced knowledgeable staff members go directly to overseas sites with abundant haul in Iceland, Norway, and Canada and carefully select raw fish. The high-quality fish are frozen using flash-freezing technology so as to maintain freshness and quality, and they are kept in the company's own freezers and processed in Kagoshima. We carefully carry out each process, with meticulous sensitivity to product control and product management as well as to thawing and drying. We create our products with a keen eye on the process from beginning to end. Through these efforts, we achieve a "balance between price and quality."